Mountain Thyme Gift Certificates
Happy Anniversary!
Happy Birthday!
SURPRISE!
Thank You!
When you want to say something special, say it with something special!
And that is exactly what a Mountain Thyme Gift Certificate is!
We will send you the Gift Certficate, you add your own note and a ribbon, and give a unique gift that will certainly be appreciated.
Gift Certificates may be obtained in either one of two styles: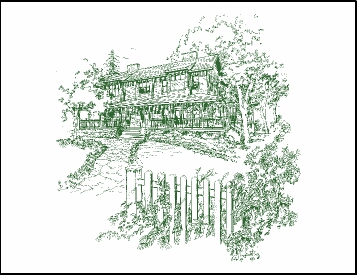 Nights in a Room
The certificate will be good for "2 nights in the Dogwood Room".
You choose the room and the number of nights you wish to give. Your purchase price will be for that room for the stated number of nights plus tax. So, if you give 2 nights in a room, your receipient can spend those two nights and owe nothing more for their stay.
What if your receipient prefers a different room than the one you selected? No problem! The full original value that you paid is put toward the preferred room. If the preferred room costs more, then the guest must pay the difference.
And the original value of this certificate never expires! The face value is good for a period of 1 year, even if the room price changes. After 1 year, the certificate is good for its original dollar amount indefinitely.
Dollars Off
The certificate will be good for "$100 off your next stay".
Dollars Off certificates may be purchased for any amount and cost exactly the amount you are giving on the certificate. There is no service charge or fee. A $100 off certificate costs $100. And, it never expires!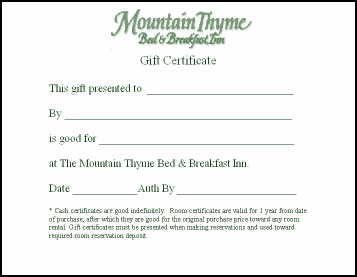 Gift Certificates may be purchased over the phone with a credit card, or you can mail in a check.
Get a really special gift for someone really special in your life!
Give us a call at 1-501-984-5428